CONTINUITY OF DERMATOLOGY CARE FOR PATIENTS, WITH PUBLIC HEALTH & WELLNESS - AN UPDATE
VetDERM Clinic is here to provide continued care for dogs & cats affected with dermatological and ear problems, so that their well-being is maintained, while also enhancing their families' quality of life.
Click below to read an update about all of the implemented changes in our clinic, including telemedicine consultations.
Our Services
A veterinary dermatologist is a veterinarian with expertise in the diagnosis and treatment of animal skin, ear, hair, and nail disorders. Veterinary dermatologists specifically have significant training and experience in the management of allergic skin diseases.

Allergy Desensitization
Pets with atopy (atopic dermatitis) often benefit from Allergen Specific Immunotherapy (ASIT) – administered as oral drops or allergy injections. This is a process in which allergens are administered to an allergic pet in small amounts, which helps build up a tolerance to allergies.

Allergy Testing
We offer intra-dermal allergy testing, the gold standard in diagnosing environmental allergies. The testing helps identify outdoor and indoor allergens causing cat and dog allergies, including grass and tree pollen, environmental moulds, and house dust mites.

Ear Care for Pets
Pet dermatologists are specialists in treating ear conditions in dogs and cats. Video-otoscopic evaluations help determine the cause for ear conditions in pets, by aiding in assessment of the external ear canal, ear drums, and the middle ear.

Non-Allergic Skin and Ear Problems
Skin diseases include more than allergic skin disease alone. Bacterial and fungal infection, nail conditions, hair loss, skin tumours, autoimmune skin disorders may be some other causes of skin discomfort for a pet. A vet dermatologist possesses expertise in differentiating and treating these various skin and ear problems.

Rush Immunotherapy
Rush immunotherapy is a safe alternative to the traditional allergy immunotherapy build-up. It helps with keeping your pet's allergy desensitization plan straightforward (no need for pet owners to assess allergic flares and make dosing decisions) and may help improve the rate of efficacy of allergy immunotherapy in pets.

Telemedicine
Online dermatology consultations for allergy, ears, and skin conditions in pets are available from VetDERM Clinic. Consult online with our board-certified vet skin and ear specialist and receive valuable advice for managing your pet's condition.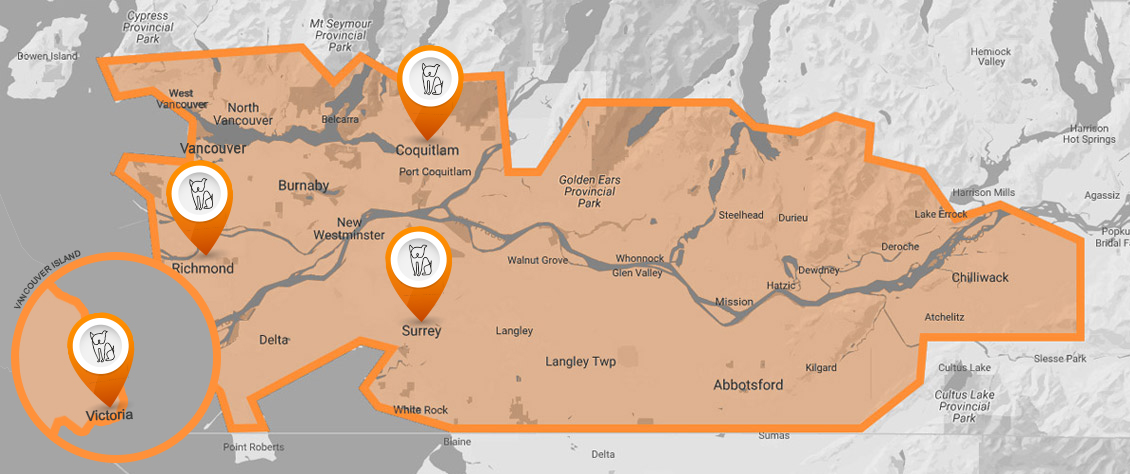 Our patients are located in British Columbia's Lower Mainland area, including the cities of Vancouver, North Vancouver, West Vancouver, Burnaby, New Westminster, Richmond, Delta, Coquitlam, Port Coquitlam, Port Moody, Surrey, Pitt Meadows, Maple Ridge, and Langley. We also extend our veterinary dermatology services to Vancouver Island.
Interested in information about our veterinary dermatologist?
Sign up for our newsletter and receive our content directly in your e-mail.
Your Veterinary Dermatologist
Dr. Jangi Bajwa is a board certified veterinary dermatologist and has been working in the Vancouver area since 2005.
After working as a family veterinarian for a number of years, Dr. Bajwa pursued his special interests in treating allergies and skin issues in dogs and cats, successfully obtaining his Veterinary Dermatology diploma with the American College of Veterinary Dermatology (ACVD) in 2014. The ACVD is a group of veterinarians who have expertise and specialized training in the diagnosis and treatment of animals with skin allergies, as well as benign and malignant disorders of the skin, hair, ears, and nails.
He has an especially keen interest in ear infections as these can often affect pets' quality of life and can become a chronic problem if not resolved adequately.